Climbing Plants Safe for Pets
A sad day is realizing that your wall-climbing houseplants are not safe for pets. Don't viney plants look crazy lush hanging from a planter or climbing a moss pole or wall? They sure do. Devils Ivy, Pothos and Monstera adonsonii are the best for wall climbing, but are technically toxic to pets. If you have a curious or obnoxious furball, you may want to err on the safe side and get some safe for cats and dogs.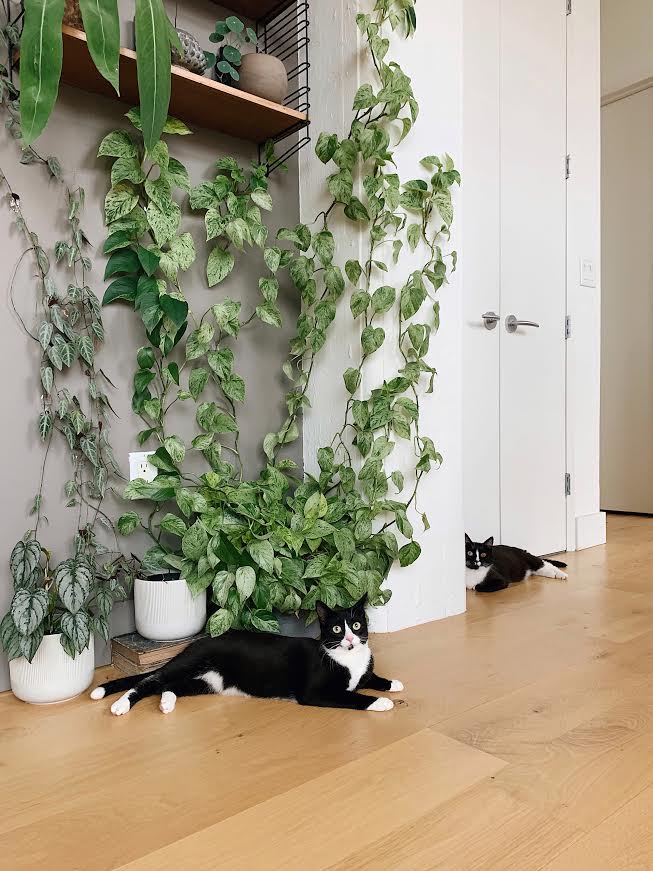 Some people like myself and Alina, who's photo above inspired many to reverse engineer their trailing plants to climb, have cats who rarely, if ever, plant munch. Some sent down from heaven don't eat any at all. But some cats treat plants like lunchables and munch away without a care. Actually, most cats don't care about anything or your happiness.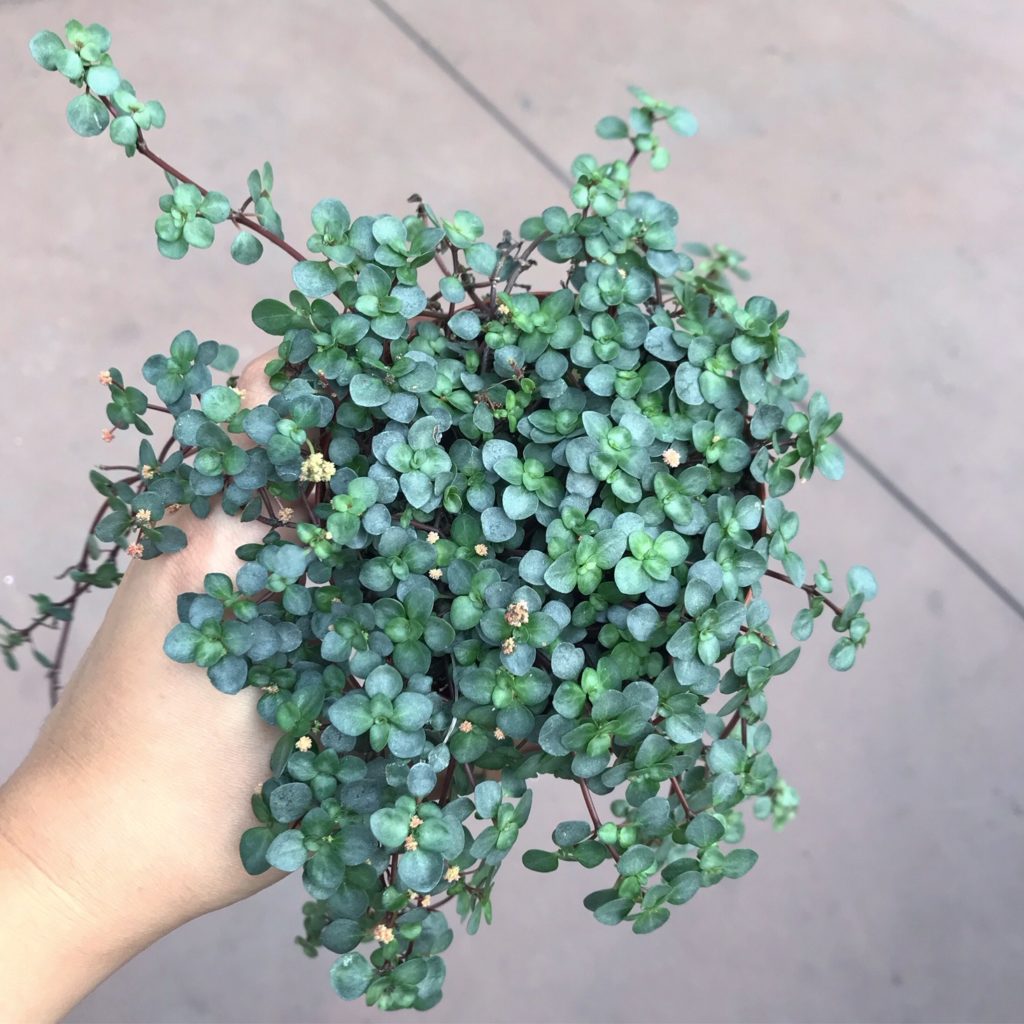 Sure, you could keep toxic plants suspended from the ceiling or on a shelf, which is always a great idea, but I get it, you want climbing plants. Or at least the ability to have hanging plants in places that may be in paw-reach. So, after many questions from readers, here is a list of climbing and trailing pet safe plants that can go anywhere in your home.
Pet Safe Indoor Trailing Plants
These plants do best in a planter that allows their arms to cascade over the top in an ever-so-lux fashion. Because they are not climbers, these babies will work best draping over a shelf or in a sunny window. All of these trailers like bright indirect sun, and kept very lightly moist. If these fast-growing ladies grow too quickly, they can be pruned and added to the top of the plant to root and look fuller.
String of Hearts, ceropegia woodii (third from left, below)
Purple Velvet Plant, gynura aurantica
String of Turtles, peperomia prostata (second from left)
Pilea Aquamarine, pilea glauca 'Aquamarine' (above)
Burros tail, sedum morganianum (on right)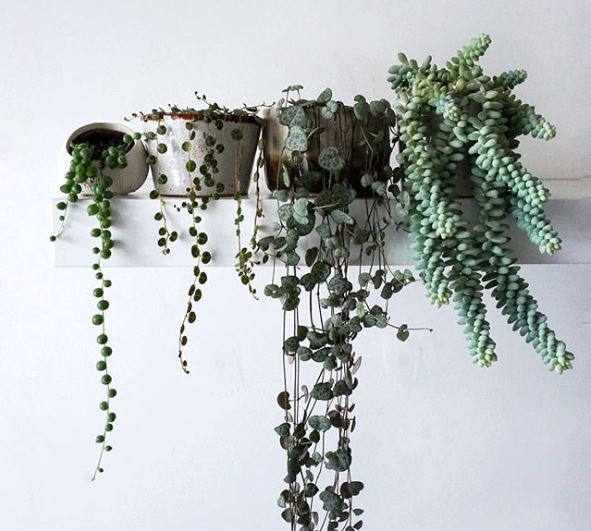 Pet Safe Indoor Climbing Plants
While none of these plants really "climb" without a bit of help, they really enjoy a nice moss pole, trellis, or command hooks to cling to. These indoor climbing plants are safe for cats and dogs and can be trained easily to climb a wall or structure. The hoyas like bright light and to be kept very lightly moist, while the begonia and peperomias prefer medium to bright light conditions and to not dry out.
Climbing begonia, cissus dicolor
Hoya obovata
Beetle peperomia, peperomia angulata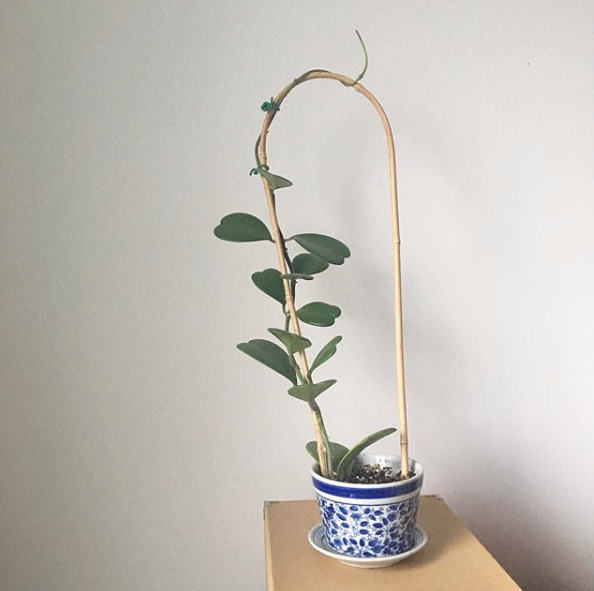 …And Some Toxic Climbing Plants
Pets or pet-consumption not an issue? Here are some of my favorite climbing plants that are NOT safe for pets but are lovely trailers:

Devils Ivy

Pothos

Rhaphidophora tetrasperma

Monstera adonsonii

Monstera dubia

Tradescantia (all types)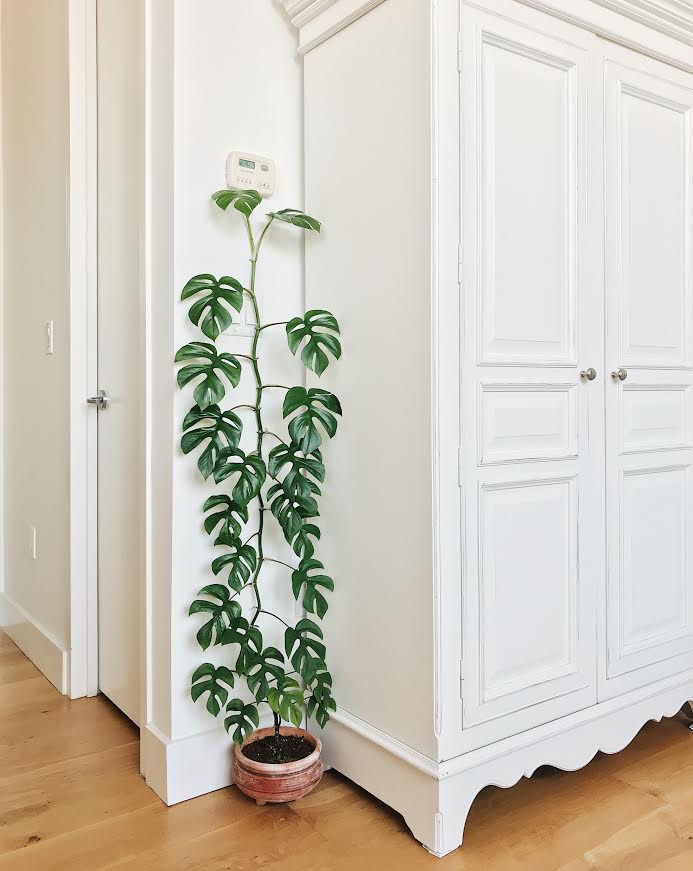 Whether you have pets or not, adding climbing plants into your collection is a nice way to shake things up. They look different and can completely transform a wall without painting or buying another floral wall hanging from Society6. Once I get my hands on a couple of these I'll be doing a tutorial on how to make these climb everything in your house – walls, fireplaces, even roommates.
*Shoutout to Alina for sending me her awesome photos she didn't delete from her phone. You can check her out here because her house is gorgeous and you can literally spend hours on her IG watching her paint. Also thanks to Mandy and Bryn from @farmer_chui on IG!
Note: this post contains affiliate links to help you find the plants I talk about 🙂