Pampas Grass and Pets: A Guide
As someone in the "flower and plant" field for a while now, I'm no stranger to the wonders of Pampas grass. However, it is weirdly making an interior design comeback lately, flooding Amazon, West Elm and even Target.
Well Pampas fans, I have good news for you. Pampas grass is a huge statement plant, dries easily, and is actually pet safe. Considering this grass is now super popular, here is a quick guide I put together for two reasons. One, I was curious if it was pet safe for myself and two, now that I know that it is I want to share that with you.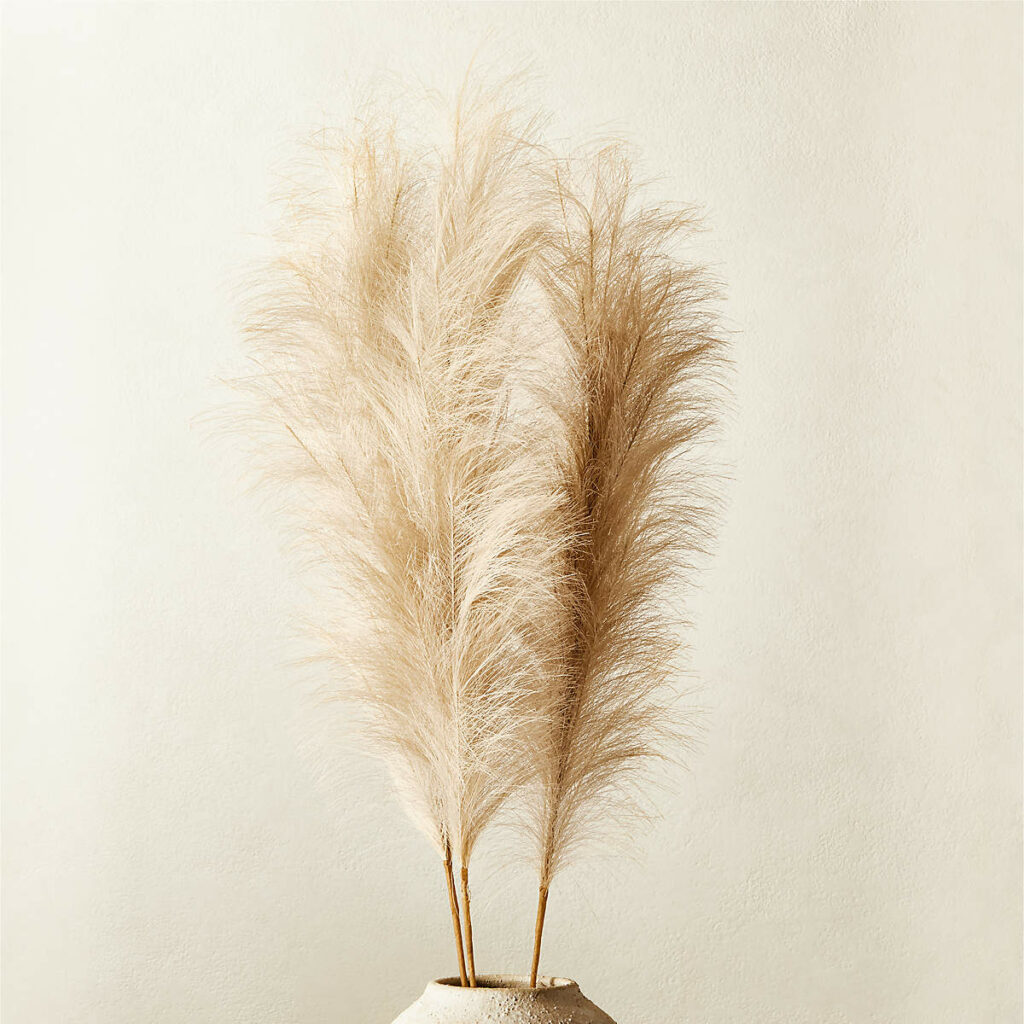 What is Pampas Grass?
Pampas is an ornamental grass that thrives in zones 6-9 (to find your planting zone, look at this site). It's also known by its scientific name Cortaderia Selloana and is an outdoor grass that grow like a weed. Now, because it grows like a weed, it may be considered invasive where you live, so don't go planting it willy-nilly. I like to plant any ornamental grass in large planters to keep it contained, and you should too. Grasses tend to spread like wildfire and I'm not into that.
Why Do You Want to Decorate with Pampas Grass?
Probably because you see it everywhere. Live Pampas does best in direct sun outdoors, so around pools and in open landscapes. The plumes (not flowers) that form on the tips pop up in later summer, around this time (August). You then cut the plumes and dry them. From here you can stick them in a dry vase and instantly look like your house was in a CB2 catalog like this: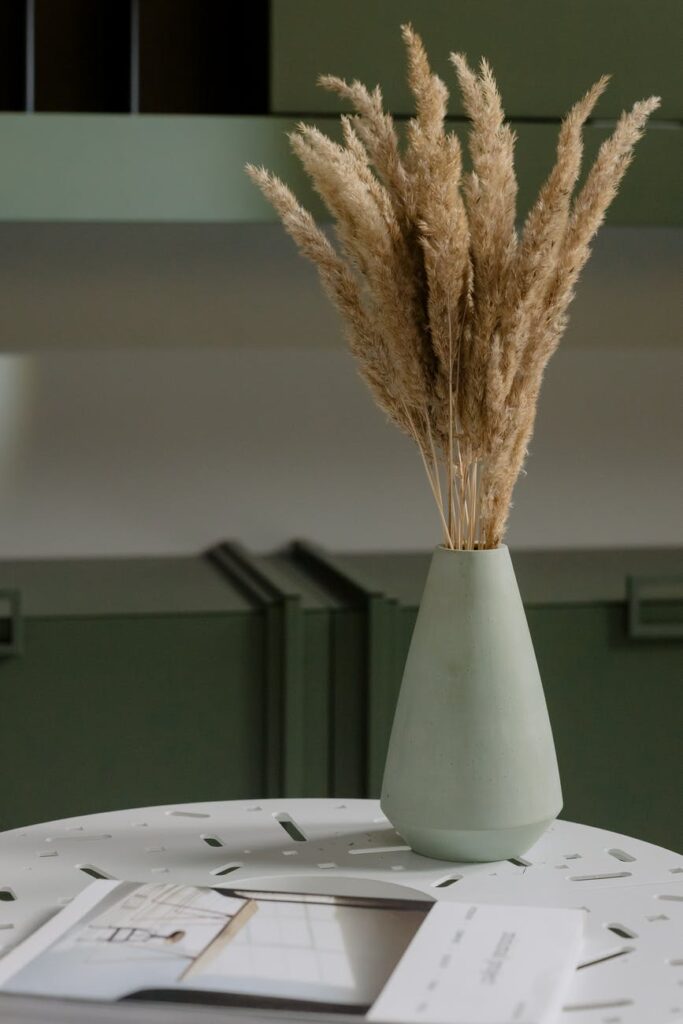 I know, I'm not wrong. I always see Pampas dried like this in every Instagram interior, mixed in with live fresh houseplants. Because Pampas does dry super easily and doesn't "shed", it's an actual neat-ish plant to put in a vase. Eventually the seed head plumes will deteriorate, but they've lasted for months for me.
As far as decorating, Pampas looks best in opaque large vases (no need to fill with water) on the floor or table. Because it's still a grass and "frond-like" it may still be a cat magnet so decorate with that in mind. And maybe don't put in your favorite vase.
Is Pampas Safe for Pets?
It is! I was pretty surprised to find that out. While I still wouldn't recommend it to be within reach of pillaging pets, Pampas grass is safe to be perched on tables and mantles. According to the ASPCA it's safe for the dogs, cats and horses in your house.
Where to Buy?
Like anything, quality matters. If you find cheap Pampas grass, beware, it may be too thin or not dried properly. Pampas still was a living thing, so do a check over to be sure your specimens do not have any bugs on them, especially if they've been imported. I like/have these on Amazon and found this set from Potterybarn.
Believe it or not, you can also get faux Pampas, which still looks realistic but you won't need to worry about shedding at all. I found a great set of three here from CB2 (CB2, please sponsor me).
And last, if you want a live Pampas grass for your yard, I found these and a pink version but definitely check your local garden center or Home Depot / Lowe's.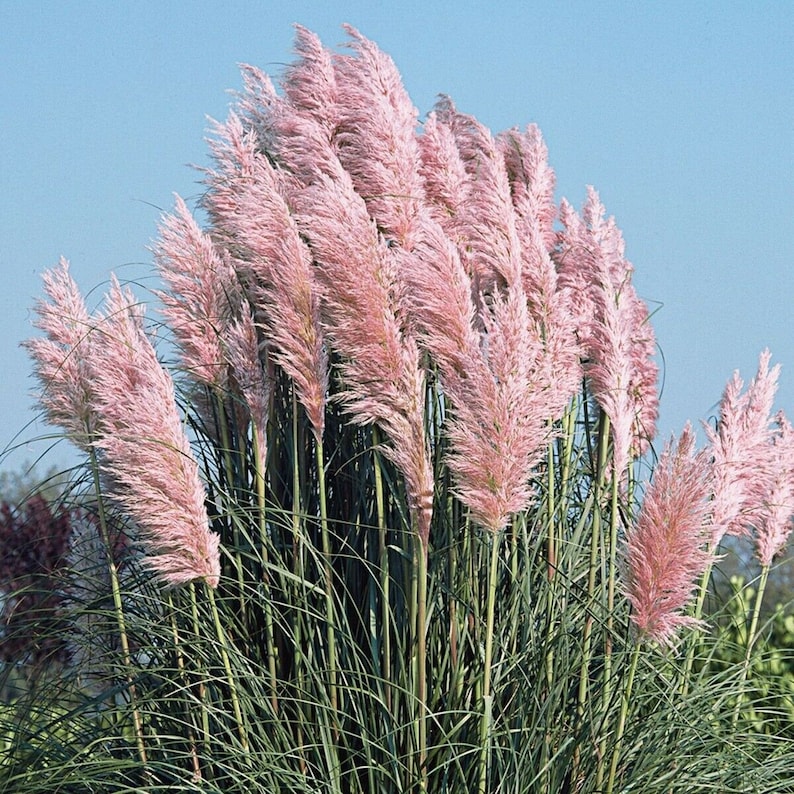 I hope that clears up any confusion with this budding trend. Normally I don't do "trendy" posts, but felt this warranted one. Happy Pampasing! (sorry)