How To: Transform a Utility Cart into a Plant Stand
If you've been on my Instagram at all, you'll see that I have a soft spot for a good utility cart. These relatively cheap table-like fixtures are wheel-able (that's a word right?), usually steel or metal, easy to clean, and water resistant. These lovely qualities make them perfect for moist and messy indoor plants.
"But how?" you exclaim. Well, you can group houseplant plants on carts, staggering them. Lower light plants can go on the bottom shelves, my air plants are usually there. Higher light plants go on top, like my hoyas and smaller monsteras. I wheel these carts around my house daily, moving them to whatever bright window the sun chooses. Is this a bit crazy, sure, but my plants have given me tons of hugs in appreciation.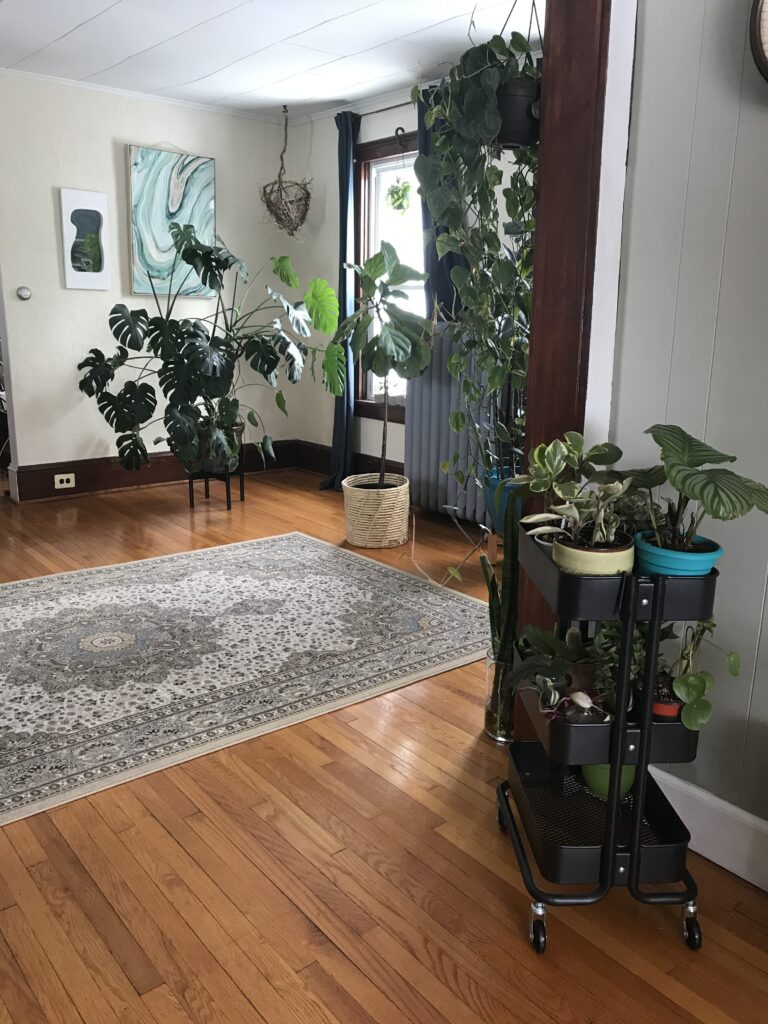 But why a cart?
The real reason I attempted to repurpose utility carts as plant stands was not for sunlight purposes, but to keep them away from my cats. I like to have spider plants and tillandsia, but it is nearly impossible to have any stringy plant not pillaged and/or attacked by either of them. They'll leave all of my other plants alone, but my god, a spider plant doesn't stand a chance.
Enter a cart! The humble rolling cart is not jumpable, climbable, or reachable by bored cats. Instead, it is the perfect place for any plant, toxic or nontoxic, to reside in a home with pets. In this post I'll talk about the carts I use so you can maybe definitely use this tactic and bamboozle your bored cat too.
Now, this post isn't sponsored by anyone (IKEA! Sponsor me! Please), I just really wanted to make a post on how to use carts for plants and which ones to buy. After being asked constantly where my mine came from, it just made sense to make a post. Below are carts that I found to be both durable and hefty for plants since not all utility carts are created equal. Also price is important, so these are all below $50 USD. I am an Amazon and Target affiliate, so I may get a couple cents if you choose to buy from either of those companies. Just wanted to be up front because you're all very loyal readers. Thanks btw.
The Best Utility Carts for Plants
Ok – I'm going to start with my FAVORITE cart, which ultimately lead to many other companies copying a similar design. This is the RASKOG (I call it the Ragnarök) from IKEA.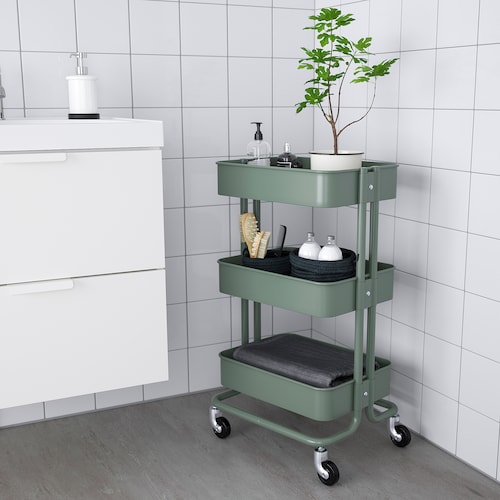 Why I love it:
-It comes in a few matte different colors (I have the white, black, and deep blue).
-The sides are high to prevent plants tipping over.
-Wheels are glidey and perform like wheels should.
-It is crazy durable. I've had two of mine for four years and they look new (despite the abuse).
-The bottom of each level is a VERY sturdy metal that looks meshy, perfect for cleaning.
They are not at all expensive, they're awesome, and I have more of these than any other. I like the fact that it doesn't have handles but for some it can be annoying. Another caveat: I realize not everyone can order from IKEA online or has one locally. I think those in the US midwest (this may have changed since the pandemic) still may not be able to order from them online. Plus, IKEA isn't available in all countries. With all of this in mind, below are great online alternatives I bought and tried out for this post.
Buy a Ragnarok here.
A very similar cart to the Raskog is this one from Target by MadebyDesign. I bought one of these to try and liked the added handles at the top which enabled assistance when rolling over an annoying area rug.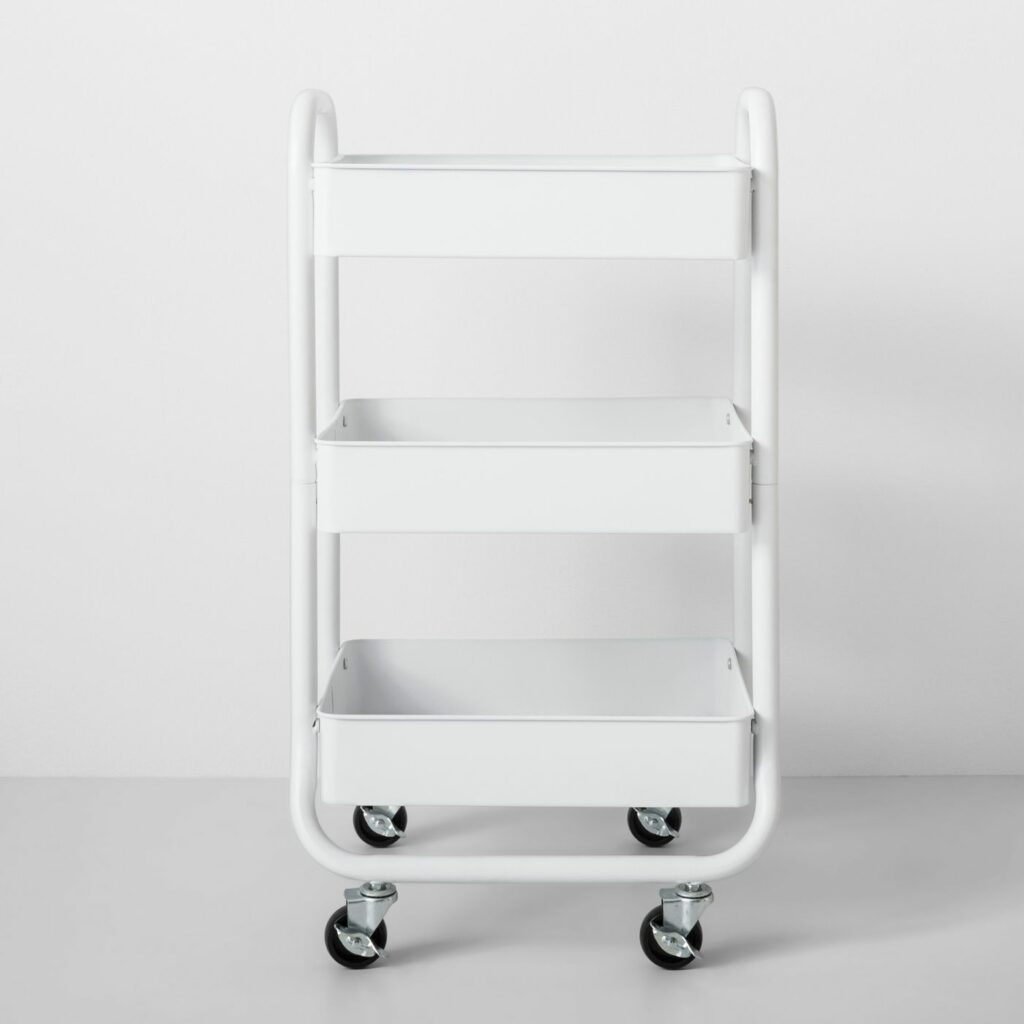 All of the perks that I mention for the Raskog apply to this cart, and Target can be a bit more accessible to everyone. I found the Raskog to be a bit more heavy duty, but that's my only criticism.
There's also a wide version that's a bit shorter. I found this too short to go under or near my windows, but if you have low windows this is a great model.
Buy the cart here.
MadebyDesign is killin' it. This is a great utility cart, but not great for chunky or heavy plants. You got tiny succulents? Baby plants? This is for you.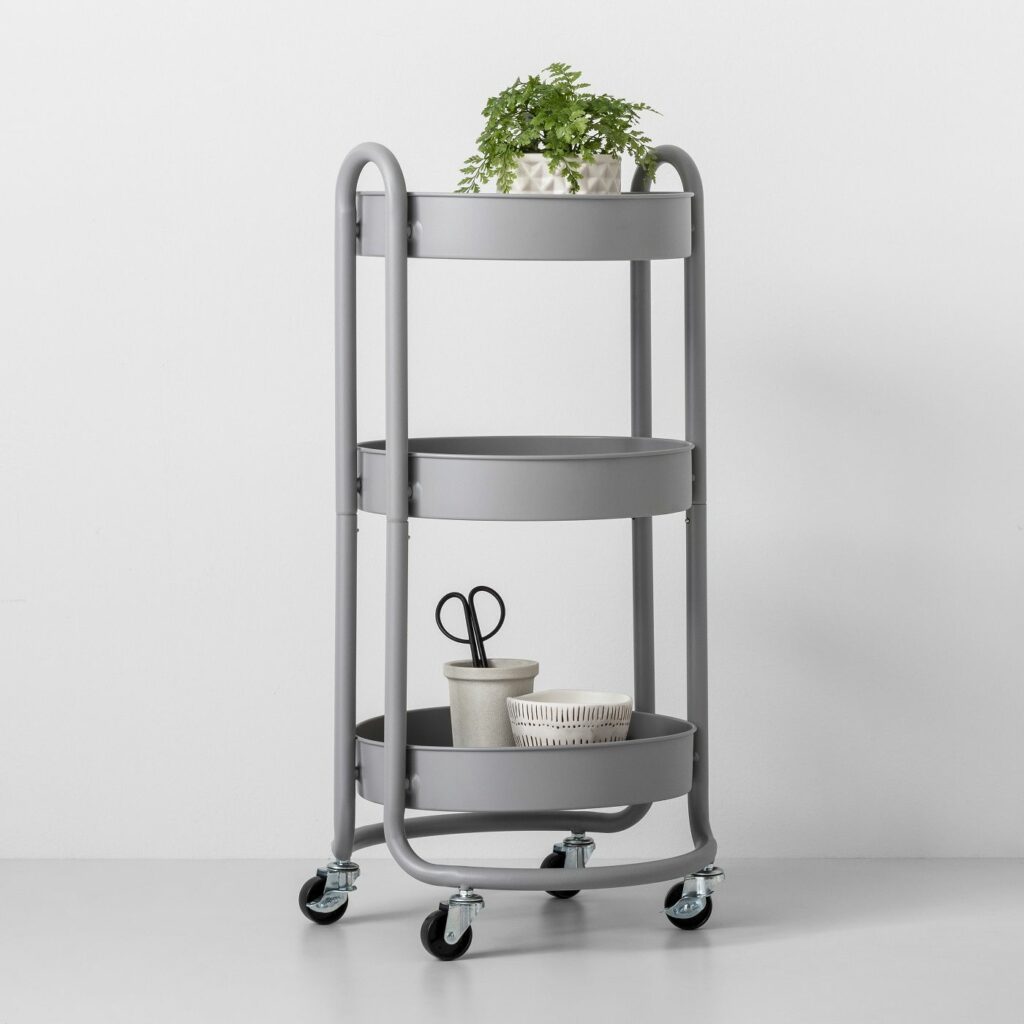 I love that the shelves are round and that it looks less like a utility cart and more stylish. The shelves are shallower, so again, not for chonky plants. The base of the shelves are not mesh but are solid, which is great for heavy handed waterers who forget to put a dish under planters.
Buy this round cart here.
I like this one. I love that it has a one-sided handle so pushing the cart is easier but isn't super in the way. As long as you stack and organize plants of this cart with some forethought, this is a nice utility cart that can accommodate heaver plants. The inside is the Raskog-style metal mesh too.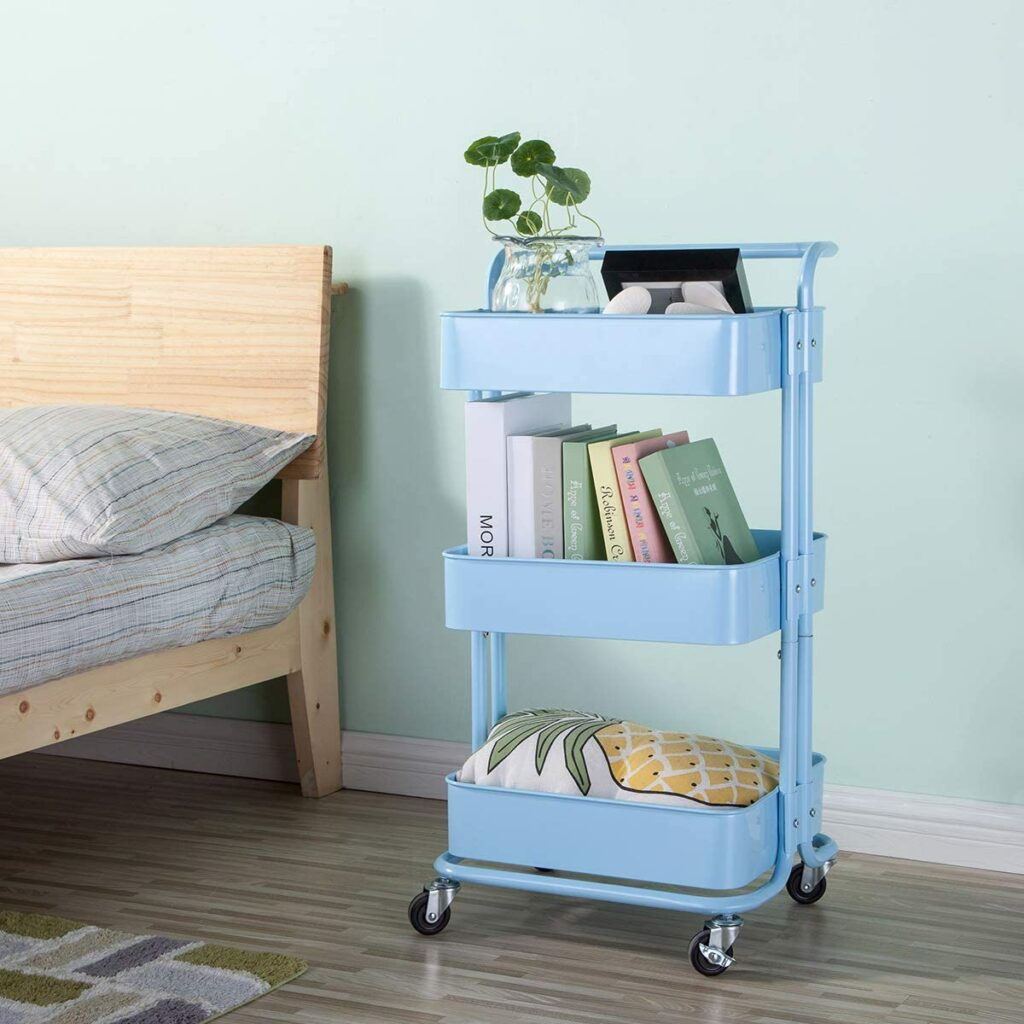 This is Amazon's verson of the Raskog and super similar to the MadebyDesign cart. Similar in heft, colors choices are nice and the price point is even comparable to Target.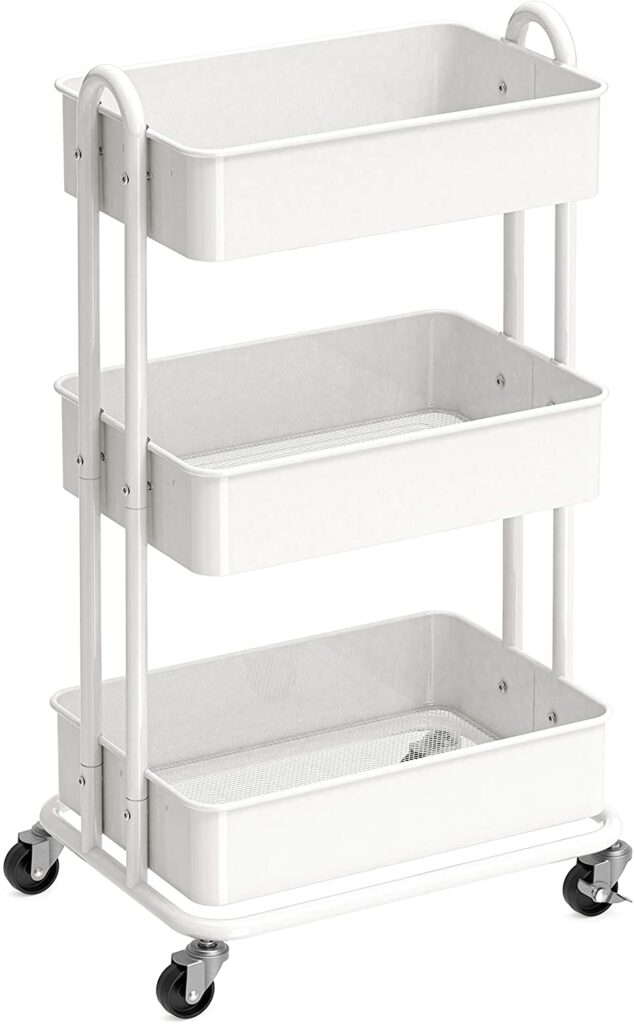 IKEA tends to be cheaper than Target or Amazon in price, but shipping the actual products can add up if you don't physically live near an IKEA. After ordering one I'd say it's moreso similar to the Target models than IKEA, but still all-around a really nice and durable cart in a matte finish.
Buy the Simple Houseware cart here.
So, I realize not everyone has room to spare and that's where this cart comes in. It has 4 tiers, making it a tad taller than the rest. It's just a little petite guy, perfect for small spaces, just for when you need to get plants off the ground and higher up.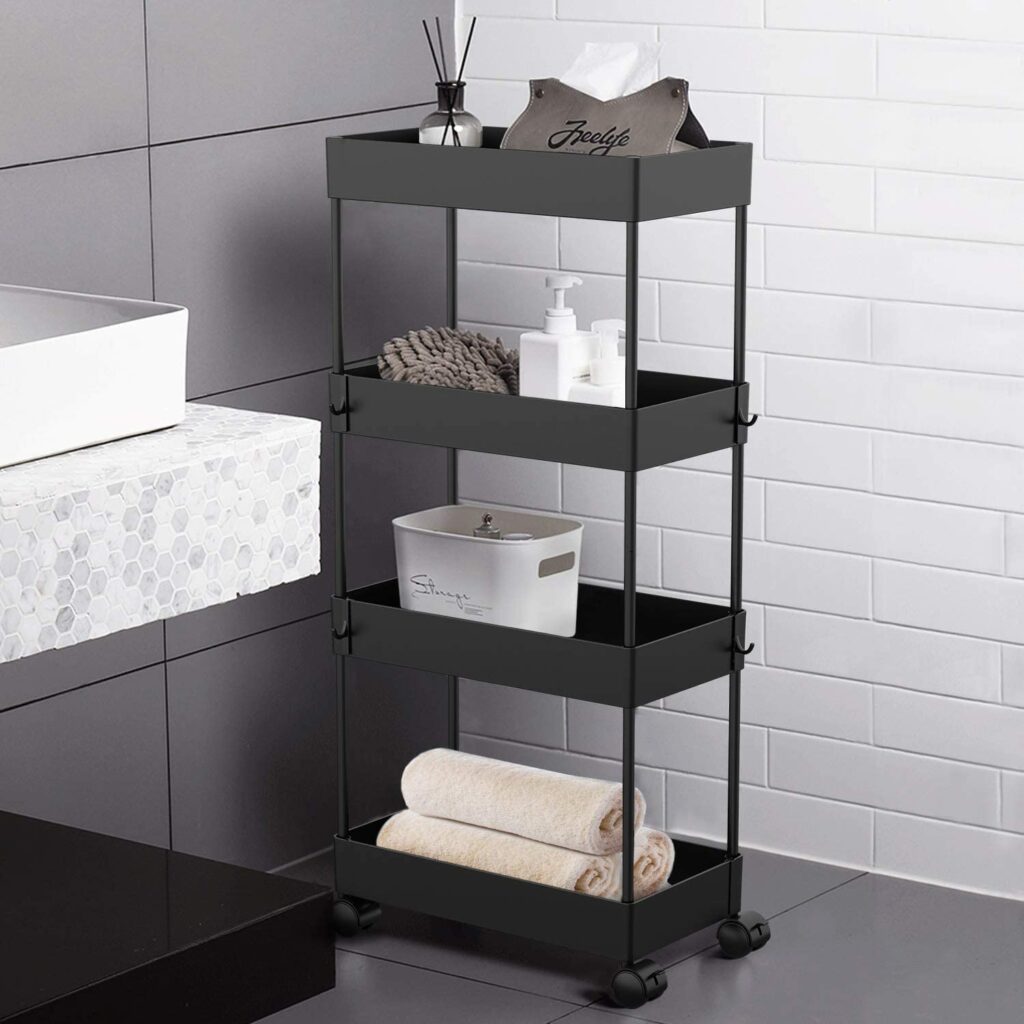 Overall it's a tad less durable then any of the previous carts but it would be great for small plants in plastic pots. The wheels are typical office chair wheels, so I wouldn't get this if you have plush carpet. I love the matte black and love the small but tall size of this little guy.
Buy this handsome 4-tier cart here.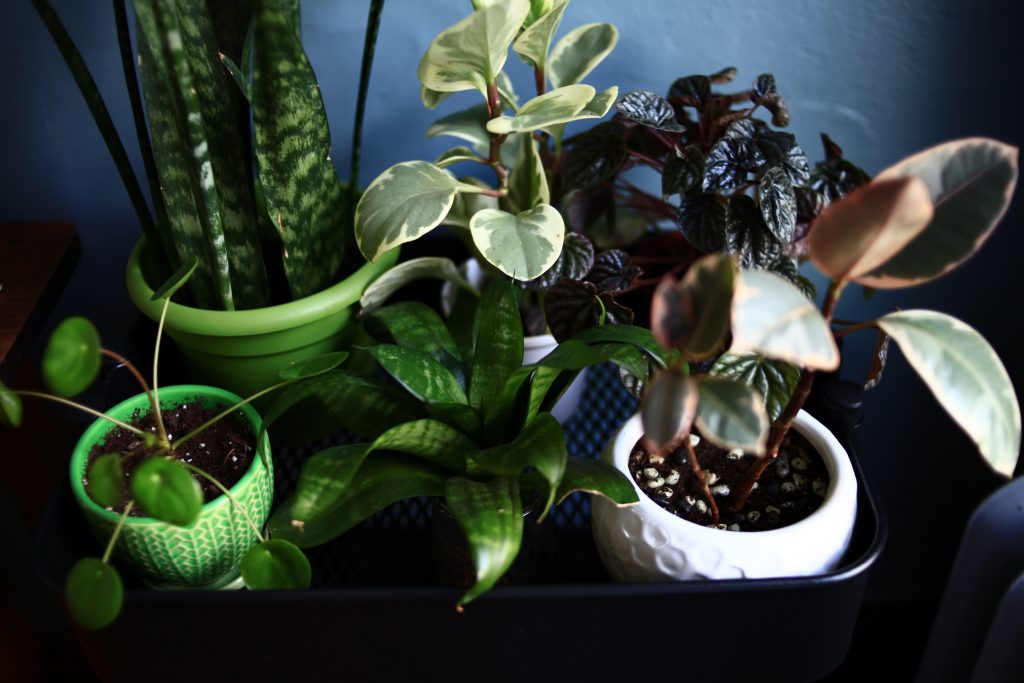 I do have some other non-cart plant stands I use all the time that I'll list:
–Decluttered's midcentury modern wood stands
–IKEA GLADOM metal table
–IKEA LACK side table
–Rainbleland shallow plant stand
I would also love to hear from anyone who uses a cart as a plant stand. Tell me how you life has changed in the comments.