While this will be a short post, it's one I feel obligated to share because: cats. Everybody loves cats. My two favorite things happened: I took adorable photos of my mittens yesterday AND it's #monsteramonday. Not to mention, Urban Jungle Bloggers' feed is all about Tropicool Summer. What's more tropical/cool then cats relaxing in the sun?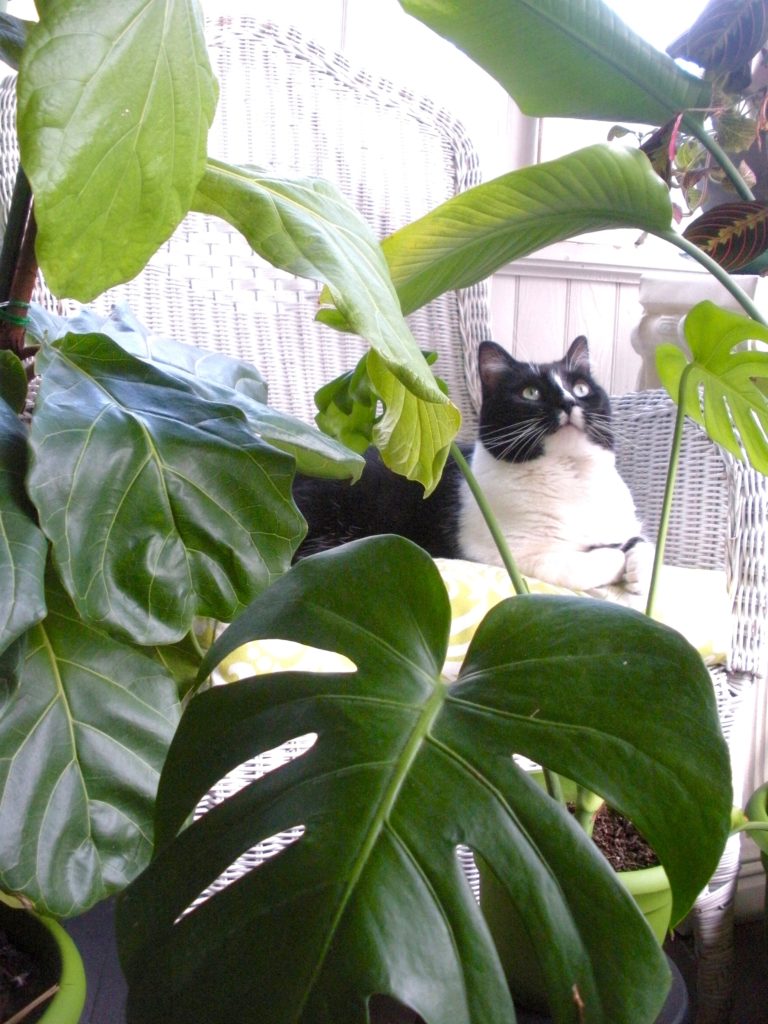 Harvey and Harlequinn were all sssuuunndaazzee on Sunday, enjoying the warm sunshine. As some of you may know, I love the Urban Jungle Bloggers feature they put out every month. For Tropicool, I visualized a whole scene of a styled shoot, with beach umbrellas and margaritas. Really, these photos are way more truthful to my Sunday mood in reality.
See?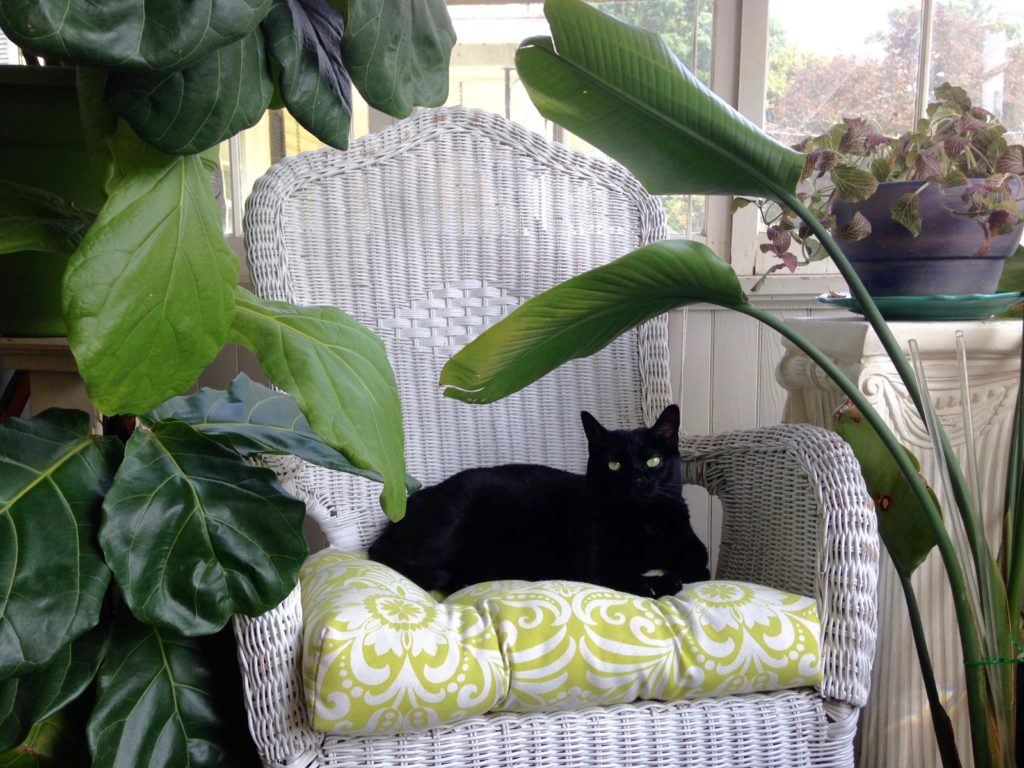 If you own a cat (or dog, I'm sure this doesn't just apply to cats…), have you noticed they enjoy your houseplants as much as you do? Yes, they are jungle-y, and hide-able . Since acquiring more houseplants, my cats sometimes seek them out, nap beneath them, and enjoy their company. It's important to only incorporate pet safe plants if you have a curious pet since eating place is up high on the list of no-nos. While I have some toxic large leaf plant, I know my cats are not at all interested in my Monstera or Rubber Tree.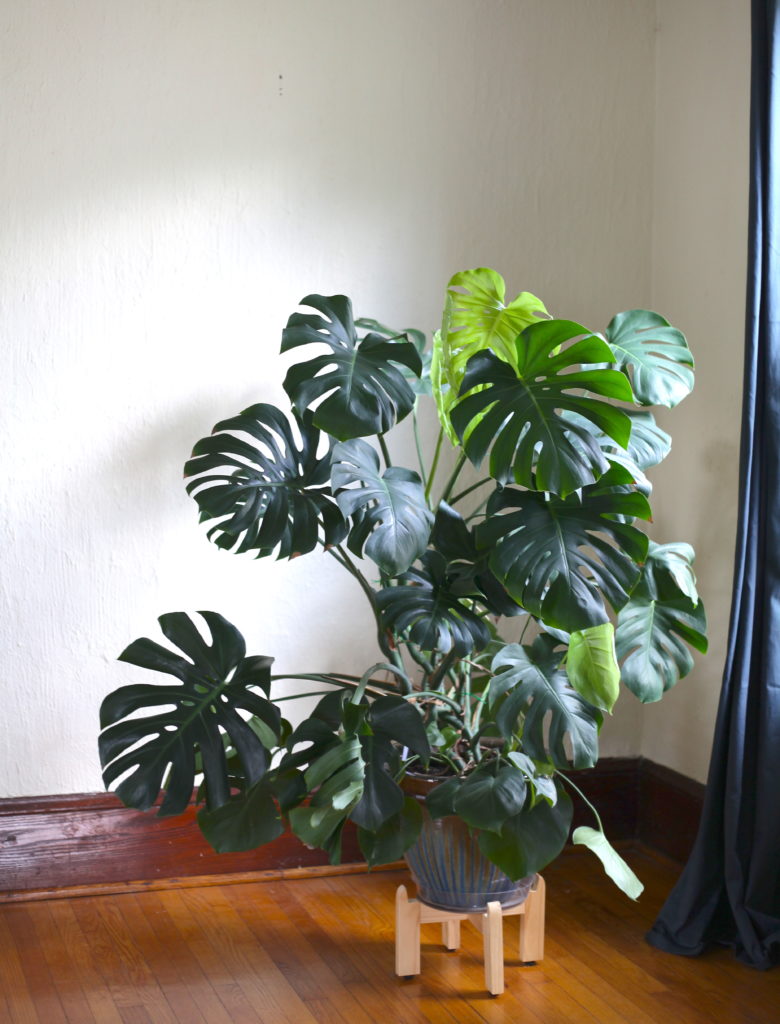 Cat Friendly Plant Placement
I keep my medium-sized lush plants on pedestals or carts all of the time, especially my palm, which cats love to eat. My Monstera and Rubber trees are in floor planters near windows.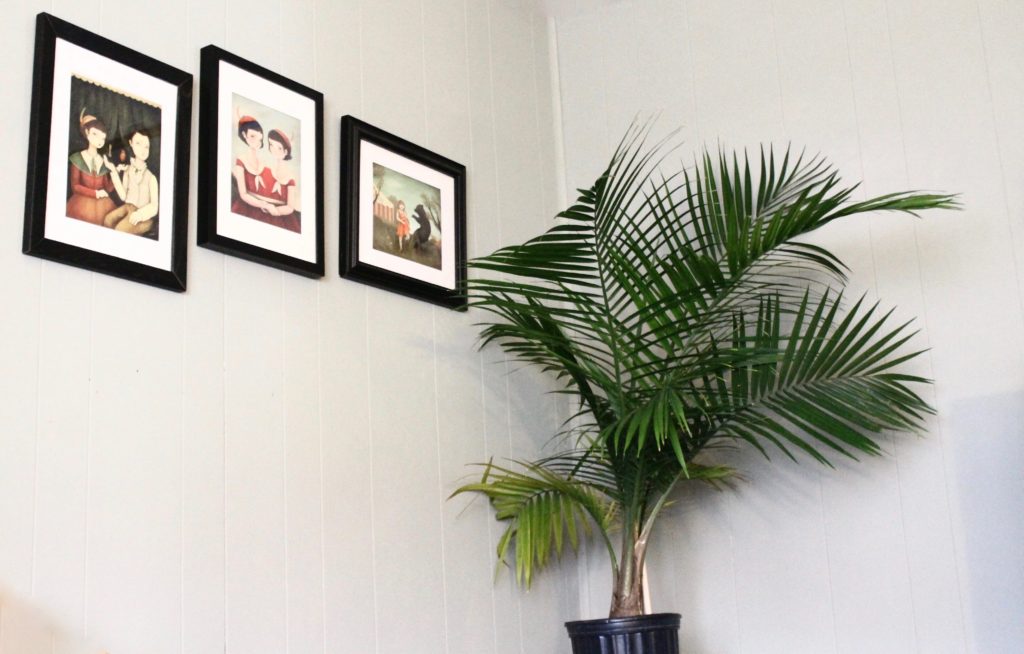 I typically move everyone to the porch in summer where the humidity is high and put comfy cat-friendly cushions on my wicker chairs. The plants love the moisture in the air and the kitties love the sun, heat, and general sauna atmosphere, despite being covered in fur.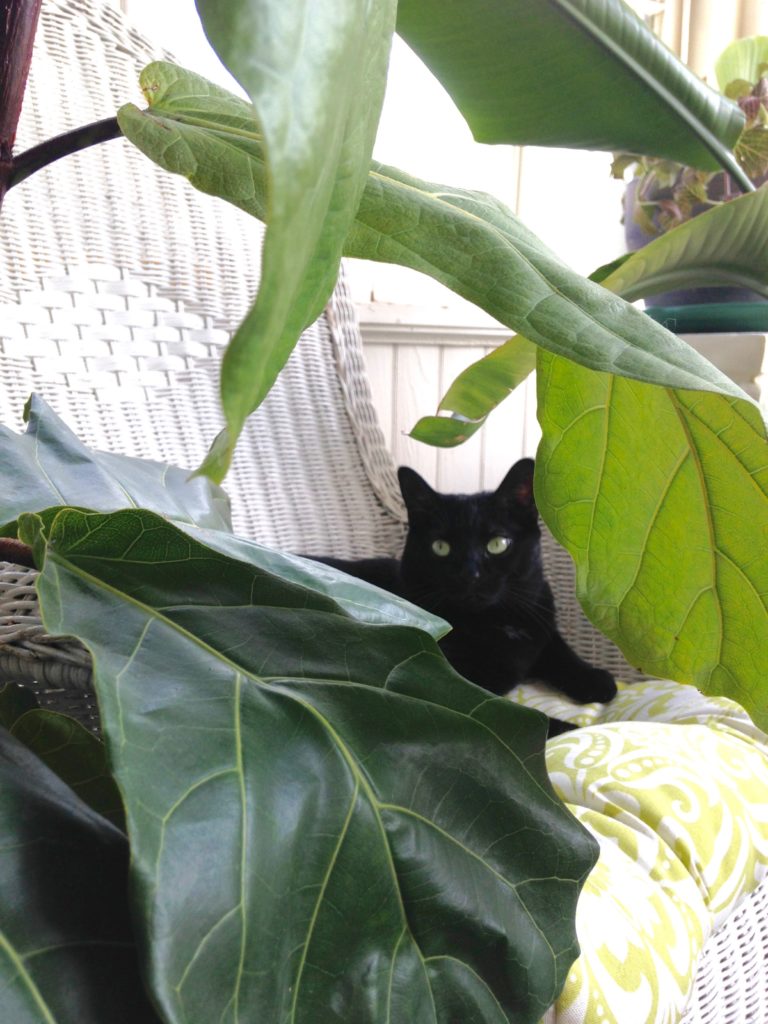 Sometimes the rug is just fine, and Harvey lays there like a garden slug. Not the most flattering angle but cute nonetheless. She really needs to go on a diet…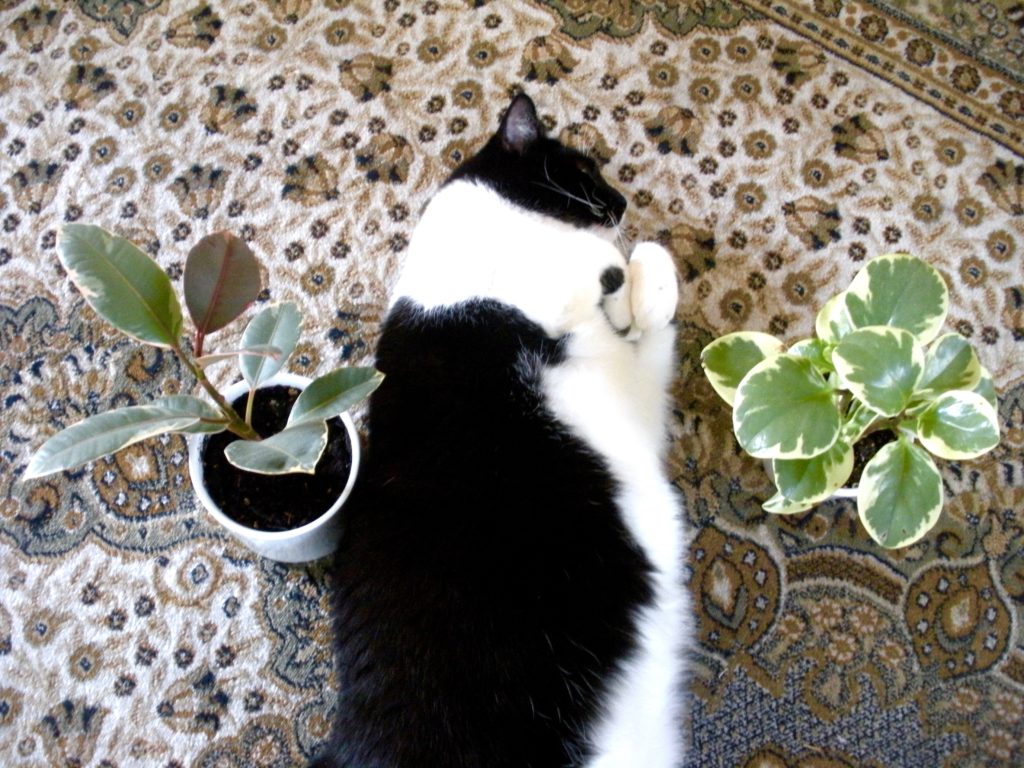 I always look for ways to make my indoors even more outdoors (sans bugs). If you have been collecting pet safe plants, it's a nice idea to create small garden-like areas for them to explore. During one of my first Leaf and Paw photoshoots in my house, I left my plants like this for a few days and the cats loved it: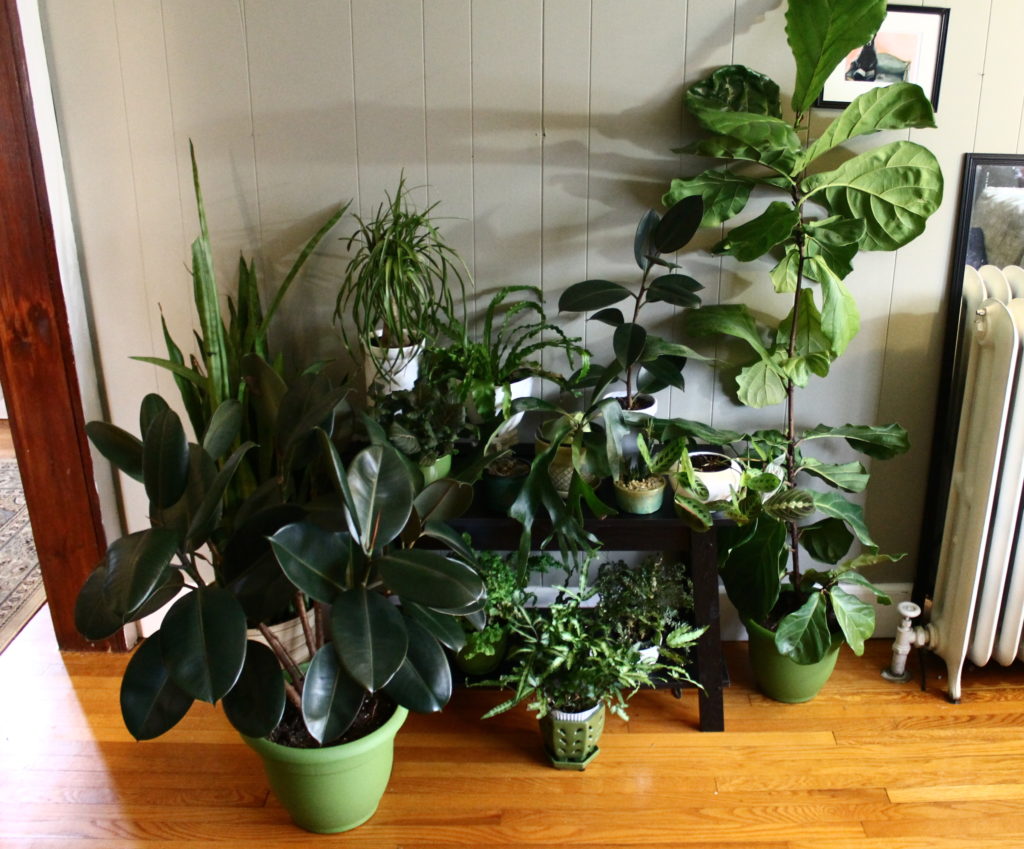 Especially for indoor cats, the greenery, increased oxygen, and air cleaning effect plants have are all beneficial to keeping them healthy. A bunch of fresh catnip in a pretty pot helps, too. Speaking of which, I actually like this article from The Spruce.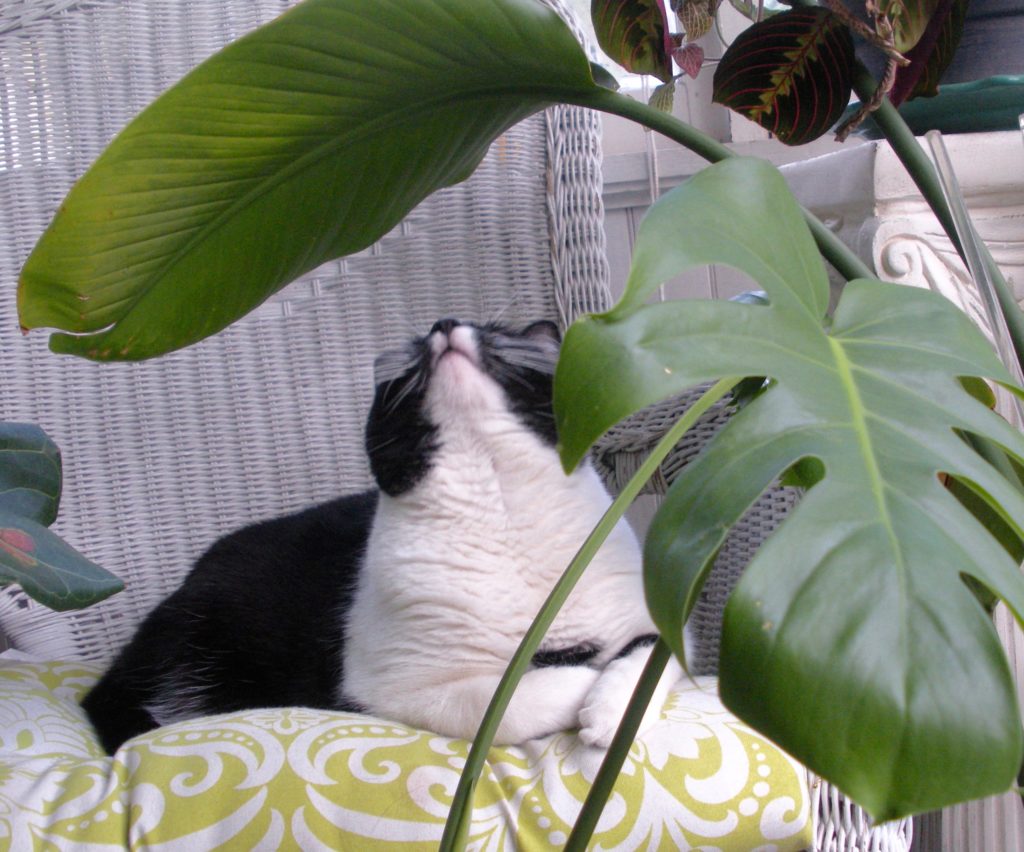 Not a plant mom yet? Check out this blog for pet friendly plants to get you started, you'll be happy you did! Soon, you can have you own tropicool oasis.
Supporter of: