So I started a Patreon. You may be thinking – if you have a blog, why do you need Patreon? The answer is ads.
When I made Leaf and Paw my main job last year, with that came an assessment of my blog and how I make money through it. Ads is a large part, like, larger than I expected. I don't do sponsored posts or promote products overtly, so ads is where quite a bit of money comes in. I wanted to change that because 1. ads are kind of annoying to me and 2. a blog without ads sounds great. I was also looking for something that could allow me to connect with readers better than my comments section of my blog.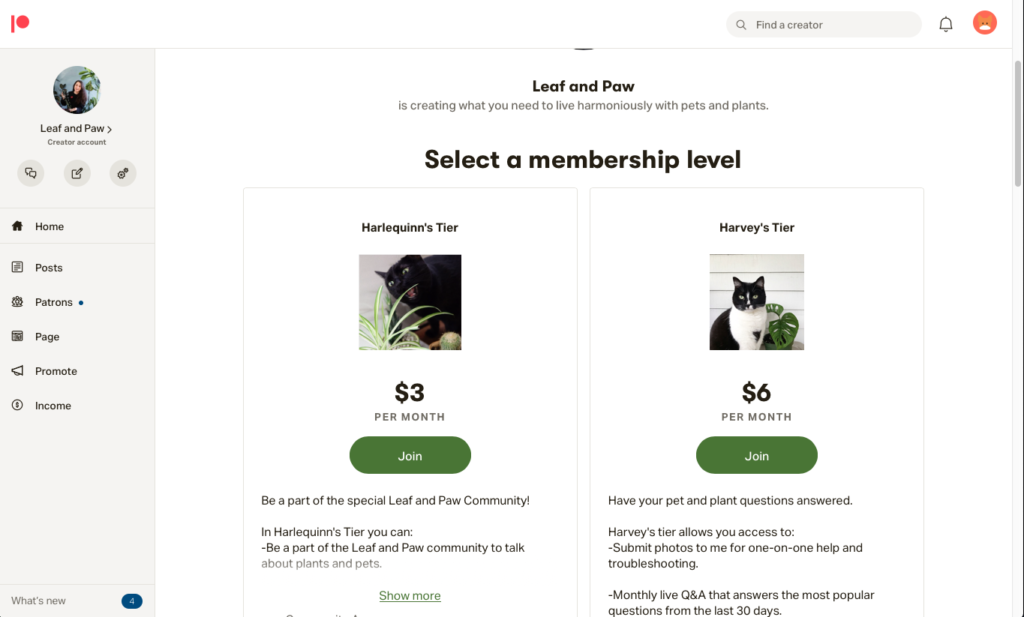 Enter Patreon. Having Patreon, I thought, would allow me to cut ads from my site. Awesome. Patreon would also allow me to answer questions from readers like you, but with the ability for you to send photos. Awesome. I always wanted to do live Q&As, but Instagram and Facebook wasn't the outlet I wanted. Last Patreon would keep a steady stream (hopefully) of income coming in so I can do more for you all. It's just $3 or $6 for a tier and both offer fun benefits.
So here we are. Patreon allows me to have more special talkytime with you, my lovely readers, and also the ability (finally) to answer your questions and help you out. My goal is to eliminate ads from my site completely, and make a better more cohesive Leaf and Paw experience on here and the Blog.
Thank you for supporting me and following my cat-filled plant journey. I'm excited to start this new chapter.