Back in February, when I first started this blog, I featured this post about animal planters. It's been a few months and, now that it's summer, I found a whole slew of planters that I adore. Plus, with all of the weddings, parties, brunches, and general celebrations, everyone needs a good gift list for that person who loves leaves and paws.
Note: These are not endorsed products, just things I love and want to share. 🙂
Ceramic Cat Planter from GailCCceramics on Etsy, $144.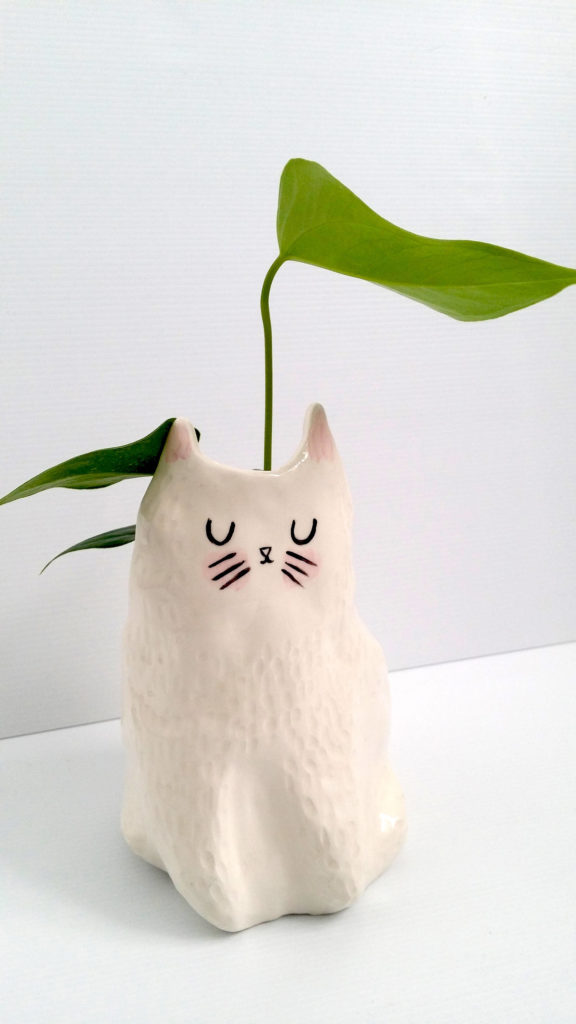 I've been following Gail on Instagram for a while because her handmade planter are THE most adorable thing I have ever seen. The little face! The whiskers! This ceramic floof would love to be on your bookcase holding your, of course, pet friendly plant. Buy this adorableness from Etsy.
Mint Dinosaur Planter from Naomi Nickerson, $25.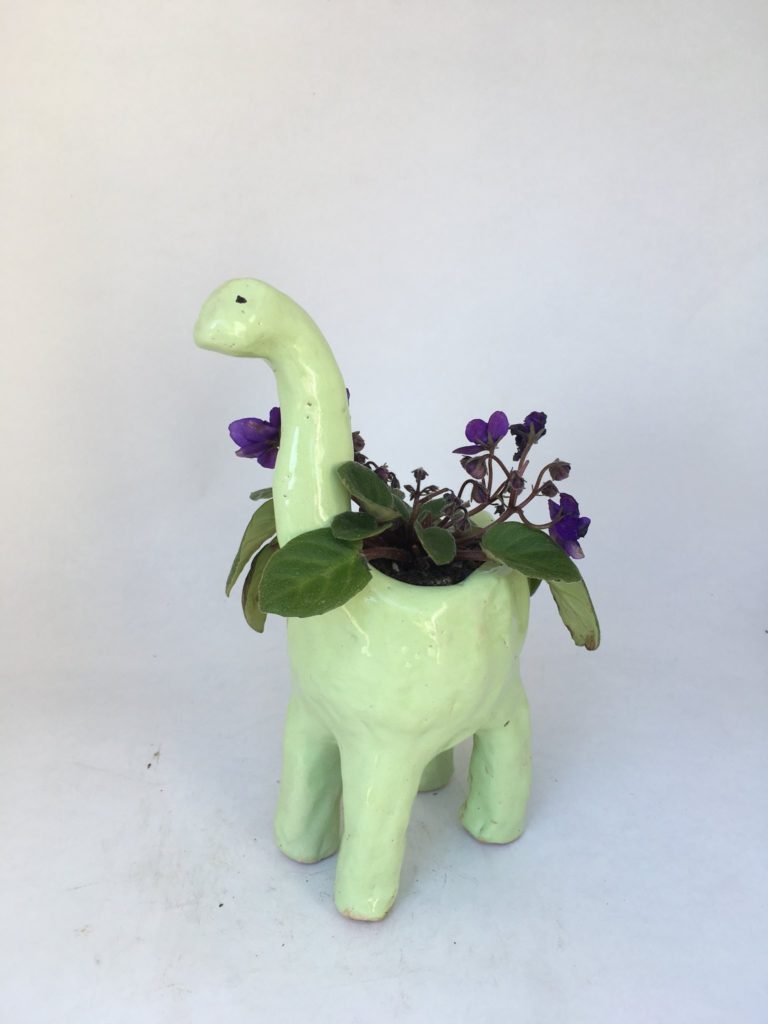 I have to say, there aren't enough dinosaur planters. Search on etsy and tons of those cut-into plastic dinosaurs come up, which is not what I was looking for. Given the underwhelming amount of ceramic dinosaurs, I was happy to find this amigo made by hand. I also found Nicki on IG and she has other pastel planters that are perfect for prehistoric and present-day animal lovers. Purchase Minty the Dinosaur on her website.
Animal Menagerie Planters from West Elm, $24-30.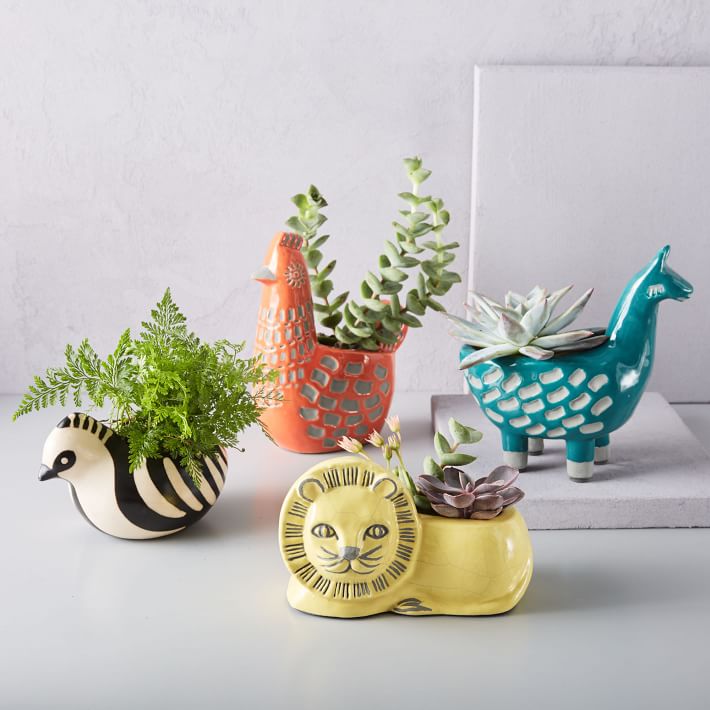 Need an office mate? Pick Tallulah the bird, Larry the llama, Lenore the lion or Lips the chicken; those are officially unofficially their names. Pick a new friend at West Elm.
Felt Fox Planter from theyarnkitchen on Etsy, $26.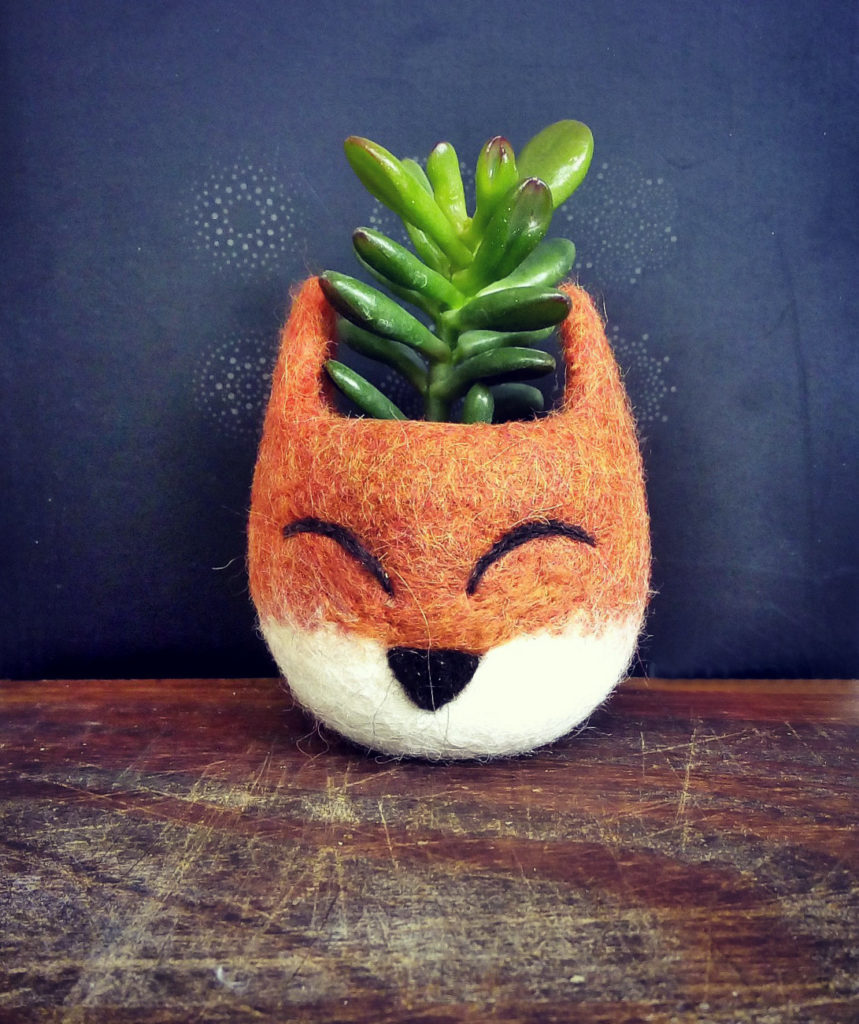 Hark! A felt planter?! It does exist. With a touch of hygge and minimalism, these artists capture the happy fox with an atypical medium.  Find the Italian etsy shop, theYarnKitchen here.
Fluffy by The Blob House on Amazon, $45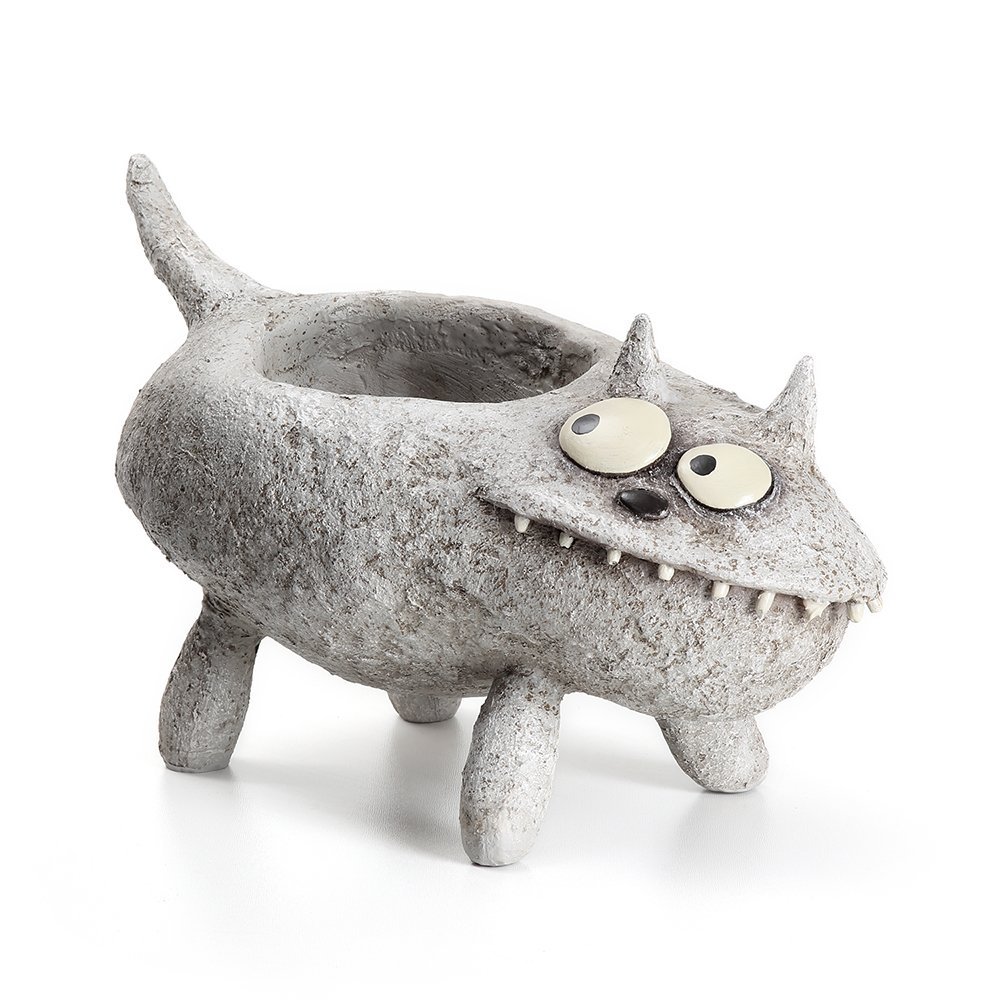 Fluffy may or may not be related to Kyle, Gru's pet from Despicable Me. Am I the only one who see's a resemblance? Find Fluffy on Amazon for under $50 and let him greet your guests for brunch.
Doggie Hanging Planter by noemarin on Etsy, $31
Cute face? Check. A hanging planter? Check. Under $50? Bring this puppy home today. 
Puffy Hedgehog Planter by TheMintyMountain, $34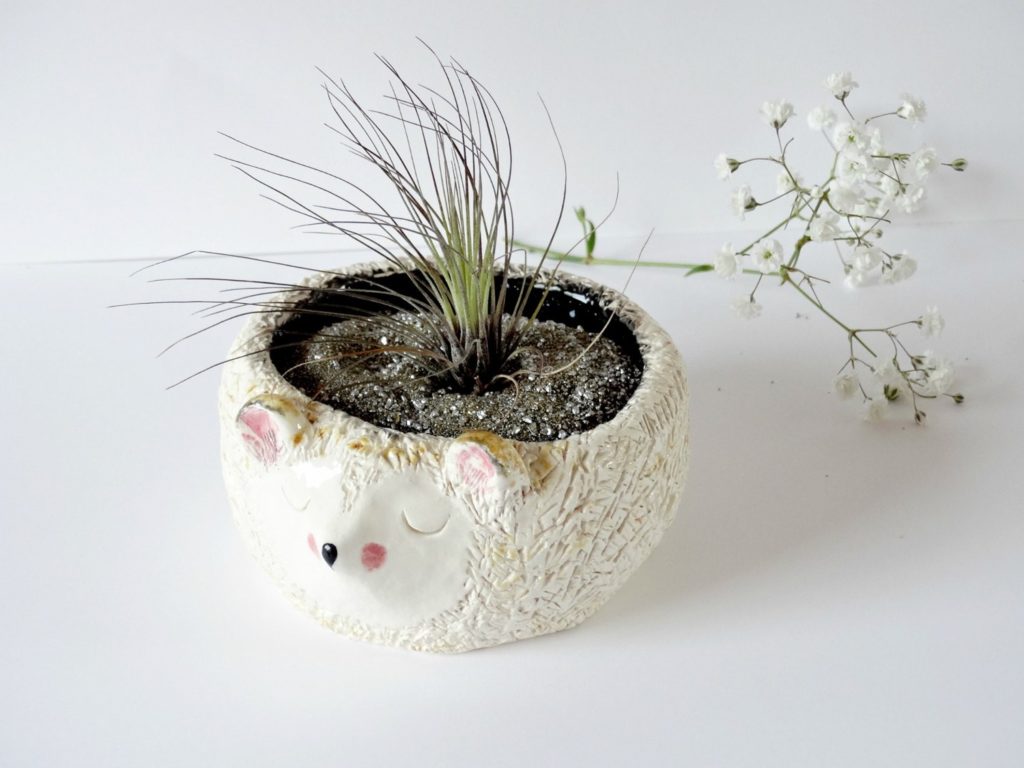 If there is one person you look up on IG today, it's Emma Jo's account. Take a peek of her precious little creations, cats, and works in progress.  Her shop is on etsy only, and includes many other rose cheeked aminals of the like.
Sequin the Unicorn by coceramicstudio on Etsy, $40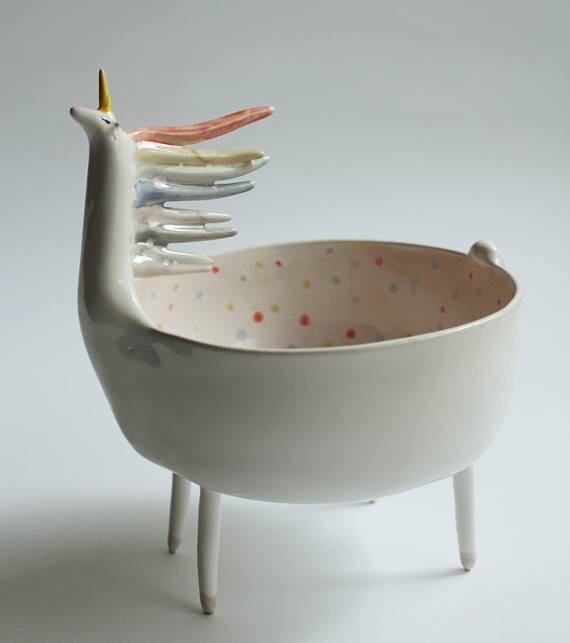 Sequin the Unicorn is one of the more majestic planters on this list. With her head held high, she'll protect your succulents with pride and sparkle. Find her on Etsy.
Tiny Sloth Planter by cumbucachic on Etsy, $38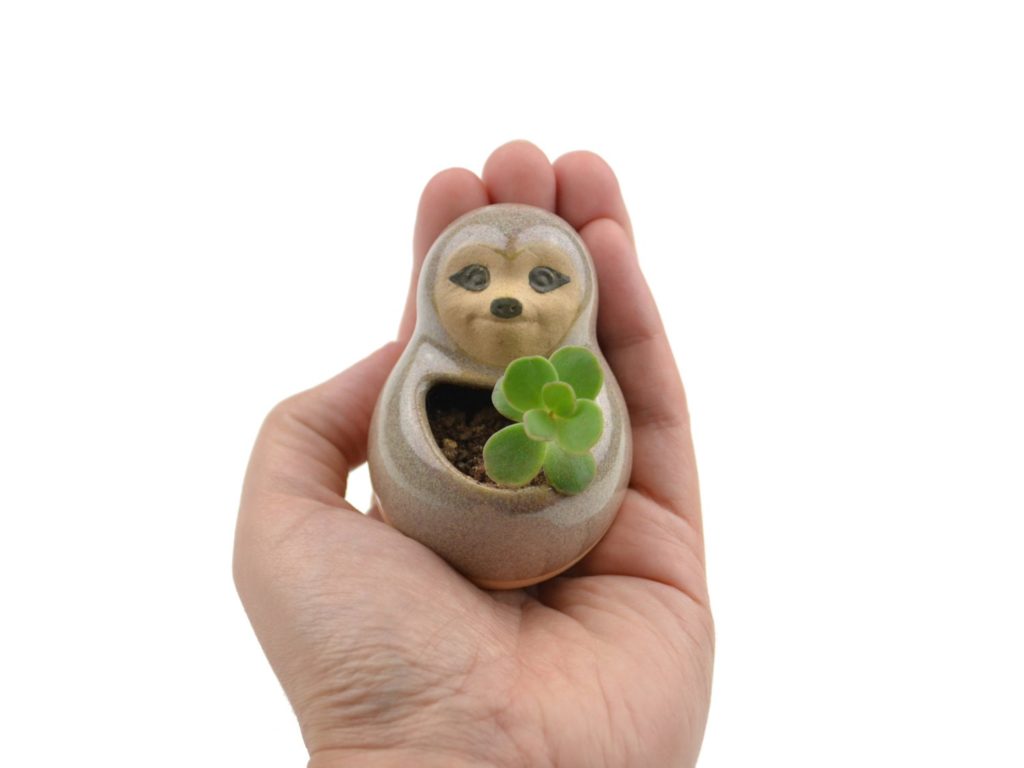 I have no words. The cuteness is overwhelming. Please buy this tiny sloth on Etsy this instant.
Dachshund Planter by fruitflypie on Etsy, $50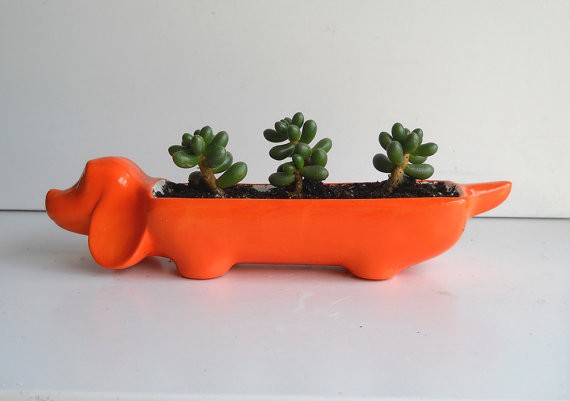 Hot diggity dog. This planter is straight out of the 70s and would look best in your white living room, outfitted with a mid-century modern coffee table, giant fiddle leaf fig, alongside a large book about interiors, naturally. Buy this pup.