As much as I love plants, I also love a good planter. I love planters shaped as animals even more. I love an animal-shaped planter filled with a plant the most. To achieve this highest love, I collected ten of the cutest planters available right now (more are here) that are perfect for an animal-plant-loving home.
Ceramic Chubby Cat Planter from Burruntando on Etsy, $28
I would buy this based on the title alone – who doesn't need need a chubby cat planter? Currently I have two actual chubber cats, but they aren't tolerant of me putting plants on their backs. Buy this adorableness from Etsy.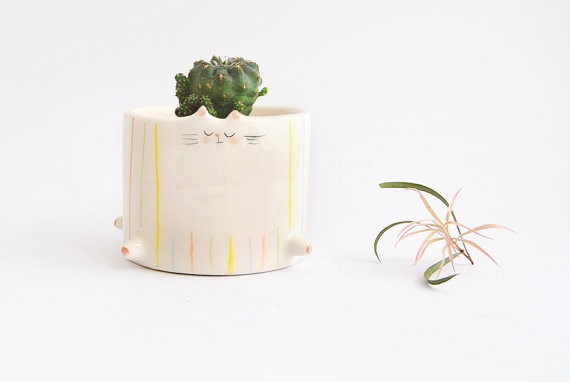 Deer Head Planter from brooklynglobal on Etsy, $23
Despite being vegetarian, I like taxidermy. I like faux taxidermy even more and have a few "deer" antlers around my house. This planter completes my desire to have a taxidermy planter hybrid on my wall. Buy this and other animals on Etsy.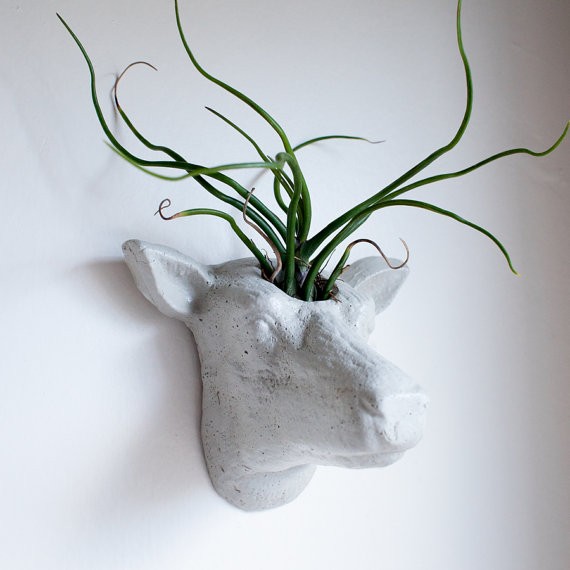 Ceramic Turtle Planter from West Elm, $20
Since I have two hedgehogs, I quickly bought West Elm's hedgehog planter that has since sold out and become unavailable. This turtle is pretty cute, too.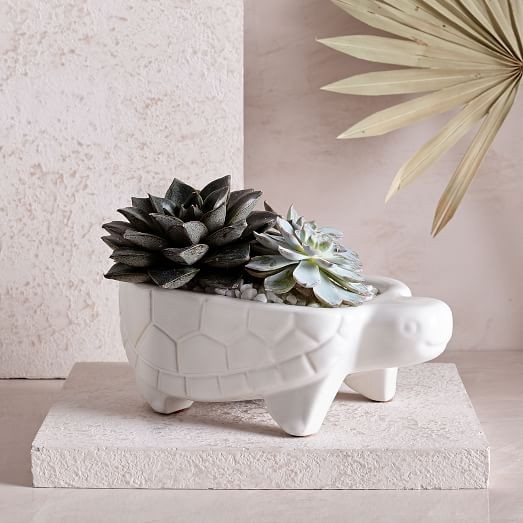 Plump Fox Planter from MinkyMooCeramics on Etsy, $53.
A perfect desk mate, this fox planter is the bee's knees! Check out all of their other cuties from minkymoo on Etsy.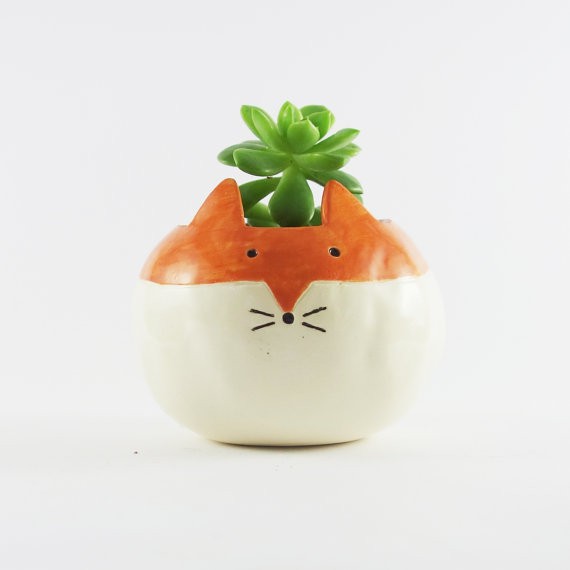 Vintage Style Pig Planter from claylicious on Etsy, $32
As someone who loves all midcentury things, this Mexican-inspired hog was traditionally a piggy bank, but looks perfect on a danish desk. I love the slight texture of this little guy and he's under $50 on Etsy.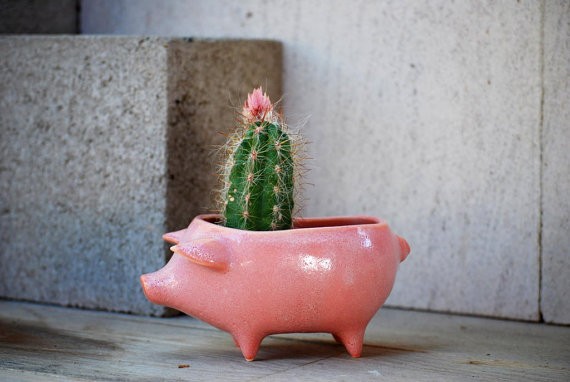 Horse Tabletop Planter from Threshold for Target, $7
Super cute? Check. Minimal and white? Check. Under $10? Target, I love thee. 

Flower Bud Dog Vase by Eleonor Bostrom, $58
This is one of my favorite planters on the list. I urge anyone and everyone to browse Eleonor Bistro's work. Her creatures are made up of simple and clever lines, housing an imperfection that I adore. Her work is special order only, but it's so worth it.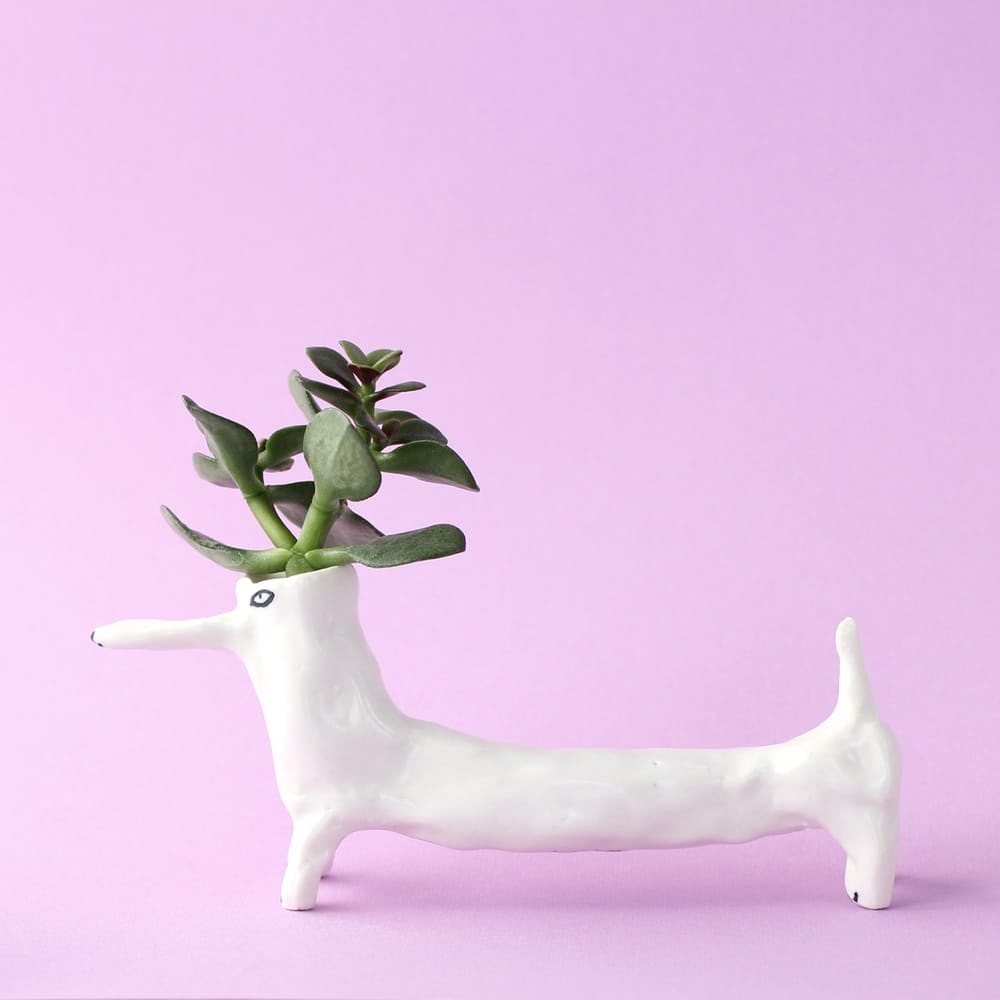 Supervillian Cat Planter by Erinnies on Etsy, $18
Batman is catman in this simple square planter worthy of every kids room, office, or man cave. Find him on Etsy.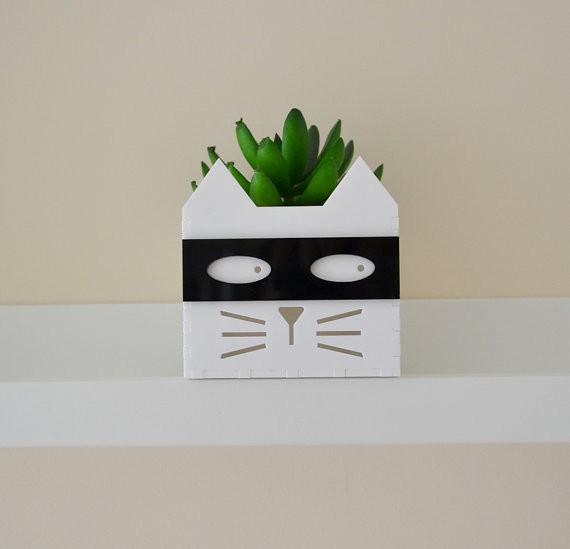 Three-legged Rabbit Planter by beardbangs in Etsy, $40
Beardbangs' super sweet and whimsical planters are one of my favorites. Look at that little bunny face!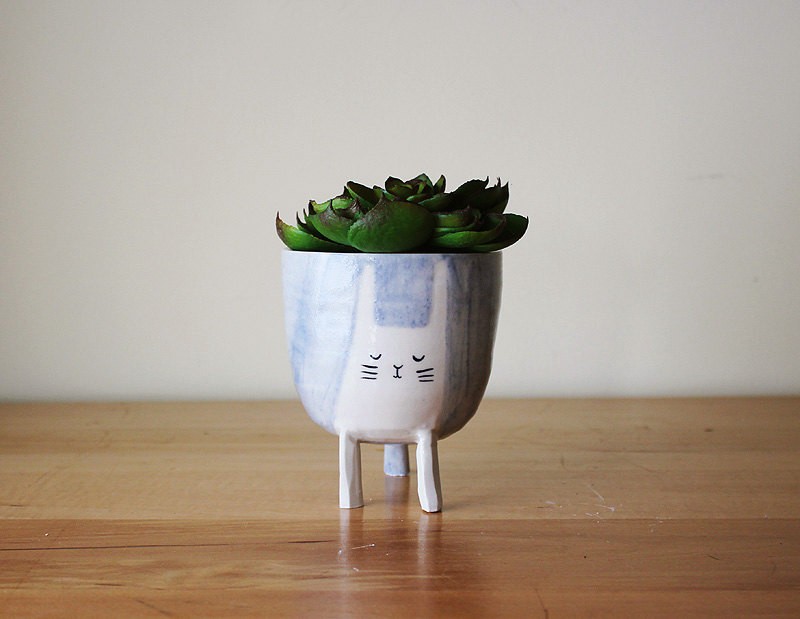 Pelican Planter by WhiteFauxTaxidermy on Etsy, $50
Again, speaking of taxidermy, whitefauxtaxidermy is one of my top shops on Etsy. I own the fabulous bear head and the quality and look is flawless. Buy this pelican.